Kevin Swanson, Keynote
Homeschooled himself in the 1960′s and 70′s, Kevin Swanson and his wife, Brenda, are now homeschooling their five children. Since graduating from his homeschool and then serving as student body president of a large west coast university, he has gone on to other leadership positions in corporate management, church, and other non-profits. Kevin has 35 years of experience in the homeschooling movement and serves as the founding director of Generations with Vision – a ministry he founded to strengthen homeschool families around the country. As a father who wants to leave a godly heritage for his own five children, Kevin's passion is to strengthen and encourage the homeschooling movement all over the world, and to cast a vision for generations to come. For the last 7 years Kevin has hosted a daily radio program – Generations Radio – the world's largest homeschooling and Biblical worldview radio program that reaches families across the US and in over 80 countries. Kevin also served as the Executive Director of Christian Home Educators of Colorado from 1998-2009, and still works actively with CHEC in his work with Generations with Vision. He has also authored several popular books for homeschoolers, including Upgrade-10 Secrets to the Best Education for Your Child, Second Mayflower, theFamily Bible Study Guide Series, Christian Classics Study Guide, and others. Serving as a passionate supporter of home education, he has been interviewed on hundreds of media outlets, including Dr. James' Dobson's Focus on the Family and the Fox News Network.
Scott Brown, Keynote
Scott T. Brown is the director of the National Center for Family-Integrated Churches and elder at Hope Baptist Church in Wake Forest, North Carolina. Scott graduated from California State University in Fullerton with a degree in History and received a Master of Divinity degree from Talbot School of Theology. He gives most of his time to local pastoral ministry, conferences on fatherhood, church reformation, and strengthening the family. He has been married to Deborah for thirty years, and they have four children ages twenty-six, twenty-four, twenty, and seventeen. Scott also helps people think through the two greatest institutions God has provided — the church and the family.

Doug Phillips, Keynote
Doug Phillips is the director of Vision Forum Ministries, a discipleship and training ministry that emphasizes Christian apologetics, worldview training, and multi-generational faithfulness. A strong advocate of mentorship, Doug has taught from his home intensive college-level, independent courses on apologetics, law, theology, and government to home school students and graduates. Doug helped to start Boerne Christian Assembly in San Antonio, which emphasizes family-integrated worship, where he serves as a teaching elder.

Don Hart
Don Hart is an elder at North Gabriel Christian Assembly. Don Hart is also the Founder and President of Heritage Defense, a national, non-profit legal advocacy organization and is a rancher and licensed Texas attorney. As owner of the Law Office of Don Hart, his practice includes serving as General Counsel for Vision Forum Ministries. He holds a Bachelor's of Business Administration from the University of Texas and a Doctorate of Jurisprudence from Texas Tech Law School, where he was a member of state and national moot court teams and received the American Jurisprudence Award in Trial Advocacy. A significant part of Don's practice involves fighting to defend Christian, homeschooling families against usurpatious government interference. Don is honored to serve as an elder in his local church. Above all, Don aspires to be a devoted husband to his bride D'Ann, faithful father to his seven children (Emalee, Katherine, Hannah, Valor, Victor, Jackson, and Faith), and a humble bondservant of the Lord Jesus Christ.

Stephen Hopkins
Stephen Hopkins is a pastor/elder at Burnet Bible Church in Burnet Texas. He is a former U.S. Senate candidate and currently the general manager of talk radio station KFGG 101.9 FM located in Marble Falls, Texas. His passions are family worship, open air preaching, and defense of preborn children. Steve and his wife, Sandra, have been homeschooling for 26 years and have sixteen children; Ryan, Rebekah, Emily, Micah, Levi, Bethany, Hannah, Caleb, Grace, Noah, Ruth, Titus, Timothy, Jesiah, Elisha, and Christiana. Their oldest son, Ryan, is married, and he and his wife, Kate, have two children, Mercedes and Evangeline.

John Latham
John Latham is a bond-slave of Jesus Christ by the grace of God. As such, he desires to serve his Lord and Master with the honor and obedience that He deserves and by the grace that He supplies. John is also a husband, father, pastor, and small-business owner in the Austin, Texas area. He has been married to Tobey Latham for 20 years and they have seven children: Michael, Joshua, Andrew, Samuel, Noah, Abigail, and Caleb. John is a graduate of Southwestern Baptist Theological Seminary with a Master of Arts in Religious Education. He did his undergraduate work at Hardin-Simmons University and earned a BBS in Applied Theology. John currently serves as a pastor/elder at North Gabriel Christian Assembly in Austin, Texas. He helped start the church about ten years ago with fellow elder Don Hart, Jr.


Colin Gunn
Colin is an award-winning writer/director/producer and accomplished animator. His previous films include Shaky Town, winner of the Best Political Film at the San Antonio Independent Christian Film Festival (SAICFF) and The Monstrous Regiment of Women which also won the Best of Festival award there.  He most recently co-directed/wrote and produced the Documentaries IndoctriNation: Public Schools and the Decline of Christianity in America and Captivated: Finding Freedom in a Media Captive Culture both winning first and second place in the documentary section of the SAICFF.   He also acted as executive producer of Act Like Men: A Titanic Lesson in Manliness.  He is now working in a new feature length documentary on American healthcare called 'Wait Till It's Free!'
Originally from Hamilton, Scotland, Colin lives in Waco, Texas, with his wife and eight children.
His recent films are:
IndoctriNation: Public schools and the decline of Christianity in America
Act Like Men: A Titanic Lesson in Manliness
Captivated: Finding Freedom in a Media Captive Culture.
Awards:
Best Political Film – Shaky Town (SAICFF)
Best of Festival – The Monstrous Regiment of Woman (SAICFF)
Runner Up Best Documentary – The Monstrous Regiment of Woman (SAICFF)
Best Trailer – IndoctriNation (New Media Festival)
Best Documentary - IndoctriNation (SAICFF)
Runner-Up Best Documentary - Captivated (SAICFF)
Runner-Up Best of Festival – IndoctriNation (SAICFF).

Michael Gobart
Michael Gobart is a faithful husband to Grace, a father to four young children, and a churchman who is zealous for God's truth and its practical application in everyday life. Michael enjoys study and is passionate to stir others in diligent pursuit of the ways of Christ as a means to better understanding the Lord of all. He currently oversees the operations of The Vision Forum in San Antonio, Texas, a national ministry dedicated to the rebuilding of the Christian family.

Cody Carnett
Cody Carnett is the assistant pastor of Fredericksburg Christian Fellowship in Fredericksburg, Texas and works on staff at Bible Teaching Ministries, a ministry dedicated to strengthening the marriage, family, home and church. He and his wife Lucy have been married for 5 years and have been blessed with 3 children.

Bob Welch
Bob Welch is the founder and president of Bible Teaching Ministries, Inc., and the pastor of Fredericksburg Christian Fellowship in Fredericksburg, Texas. He and his wife Yvonne have been married for 46 years. Bob has been ministering for the past forty years teaching God's Word and seeking to honor the Lord by strengthening marriage, the family, the home and the church.
Justin Horsman
Justin's passion to see people fulfill their God-given life purpose infuses his sessions with exciting cultural and educational relevance. After homeschooling all the way through high school, Justin was then able to earn his accredited bachelor's degree in 19 months for under $12,000 through CollegePlus. From this experience, Justin decided to help other homeschool families reach their educational goals. And over the past six years, he has personally counseled thousands of homeschoolers, helping them achieve their academic and life goals. A frequent speaker at conferences nationwide, Justin's information-packed sessions are designed to motivate and inspire homeschool families to continue owning their education while giving them practical, how-to insights on higher education and preparing for life beyond college. Justin and his best friend and wife, Bethany, reside in San Antonio with their three blessings, Emma, Reagan, and Ava!

Dennis Gundersen
Dennis Gundersen is President and owner of Grace and Truth Books, a Christian publisher of more than 60 books, with a primary focus on reprinting 19th century children's stories with a character building emphasis.  Dennis has served as Senior Pastor at three Tulsa churches since 1984 and is currently devoting his time to writing, publishing, conference speaking and training young people for ministry at the Tlapaneco Bible Institute in Guerrero, Mexico. He is author of two books: "Your Child's Profession of Faith" and "Courtship or Dating: So What's the Difference" and he is a frequent speaker at church conferences, men's retreats and home education conventions.  He and his wife Naomi have been married since 1976, and have four sons. He is an avid mountain climber, cyclist, and photographer.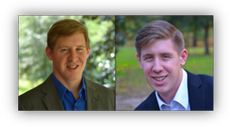 Jonathan and David Covey
Jonathan and David operate CollegeBuilder, a family-run, mentor-based coaching service for distance learning students.  Jonathan is currently serving as General Manager and David works in program development and communications.  They completed K-12 as homeschoolers; and are graduates of Thomas Edison State College where each completed an accredited Bachelor's degree from home in less than three years, for less than $10,000.  The brothers have spent countless hours coaching students to reach their educational goals; and both are currently working to complete their own educational goal of obtaining a Juris Doctorate through Oak Brook College of Law and Government Policy.  Jonathan and his father started CollegeBuilder to aid students in living an uncompromising life for Christ in their pursuit of higher education.  Currently, Jonathan and David also work for the U.S. House of Representatives as congressional staffers for Congressman Steve Stockman.